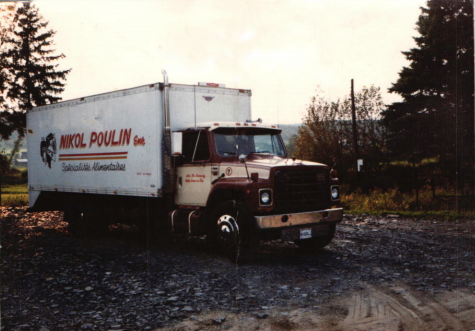 In 1989, M. Nikol Poulin started his own wholesale food business and bought his first delivery truck. He delivered goods to convenient stores, grocery stores as well as drugstores in the Beauce and Bellechasse regions.
In 1990, a new opportunity comes along and he becomes sales representative East Quebec for I.MAGID Inc , a well-known food distributor in Laval, QC. Originally, his contract was supposed to be 5 years, but it was finally for 7 years.
In 1997, M. Poulin decided to leave I.Magid Inc and start his own food distribution business as an independent distributor ( Nikol Poulin Inc ). « A great number of customers, suppliers, carriers, Desjardins group and the salesman at the beginning have trusted us, which is why we have a great reputation and we are well establish in Canada and in the United States.» – Nikol Poulin
In 2011, the second generation of the family (Dave Poulin, Karine Poulin, Marie-Ann Poulin and Philippe Poulin) decided to joint the business. They raised the business to a second level by brining new ideas, new concepts.
In October 2018, NPI Group built its own Distribution Center of 20 000 square feet located in the East area of Saint-Georges (3232, 85thstreet Saint-Georges).
In 2021, NPI Group bought a second warehouse of almost 50 000 square feet (Formerly F. Charest Ltee) which is located in West area of Saint-Georges (1085, 42th street Saint-Georges). NPI Group has now 110 000 square feet of warehousing.
Today, the business has 13 sales representatives, 70 employees, 3 economics stores. NPI Group is doing business all around the world. We are proud to serve over 1500 customers all around Canada, United States, Central Asia and Europe with the help of our 350 suppliers and we intend to do it for many years to come.